InstaCheck
InstaCheck is the convenient way to deposit checks into your HCU account from anywhere.  You'll save time by not having to make a trip to the branch.

Save time and check something off your to-do list in an instant with InstaCheck mobile check deposit.

Located inside the HCU Digital Banking app, Instacheck is the secure way to deposit your checks. Plus, you won't have to keep track of checks until the next time you make it to a branch.

Depositing a check with Instacheck is easy. MySnap technology takes the picture of the check for you, so there's no guess work. It's simple, safe, and secure.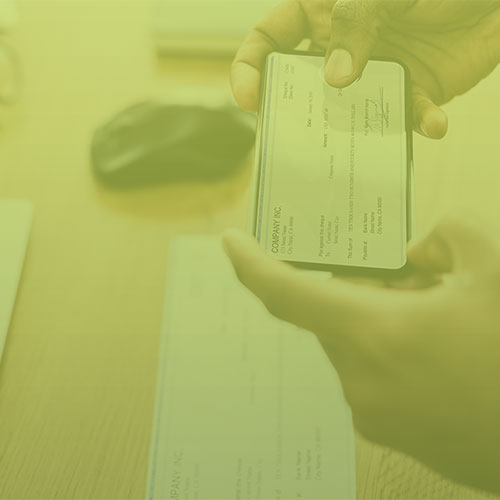 Instacheck Mobile Check Deposit Features
Deposit checks right from your mobile device, anytime day or night
Located inside the HCU Mobile App
Free, unlimited transactions
1. Make sure you have downloaded the HCU Mobile app available for iPhone*, iPad*, and Android devices. To download the app, simply go to the Android Market or Apple App Store and search for "HCU" or "Heartland Credit Union".
2. Sign on to your account on your HCU Mobile app using your HCU Online user ID and password
3. Choose "InstaCheck Deposit" from the app menu options.
4. Select the account into which you want to deposit the check
5. Enter the amount of your check. Remember to sign the back of your check to endorse it.
Endorsement on back of check should include the following:
Member Signature
For Mobile Deposit Only
Heartland CU
Account Number
6. Snap pictures of the front and back of your check. (Make sure the whole face of the check is in the photo, the lighting is even across the face of the check, and the background contrasts strongly with the color of the check) Once all 4 corners of the check are in focus, the camera will auto-snap the picture.
7. Submit the check for deposit (this may take a few short moments to process)
8. Get on with your day!
9. Retain the check for 60 days, then destroy or mark VOID on the check.